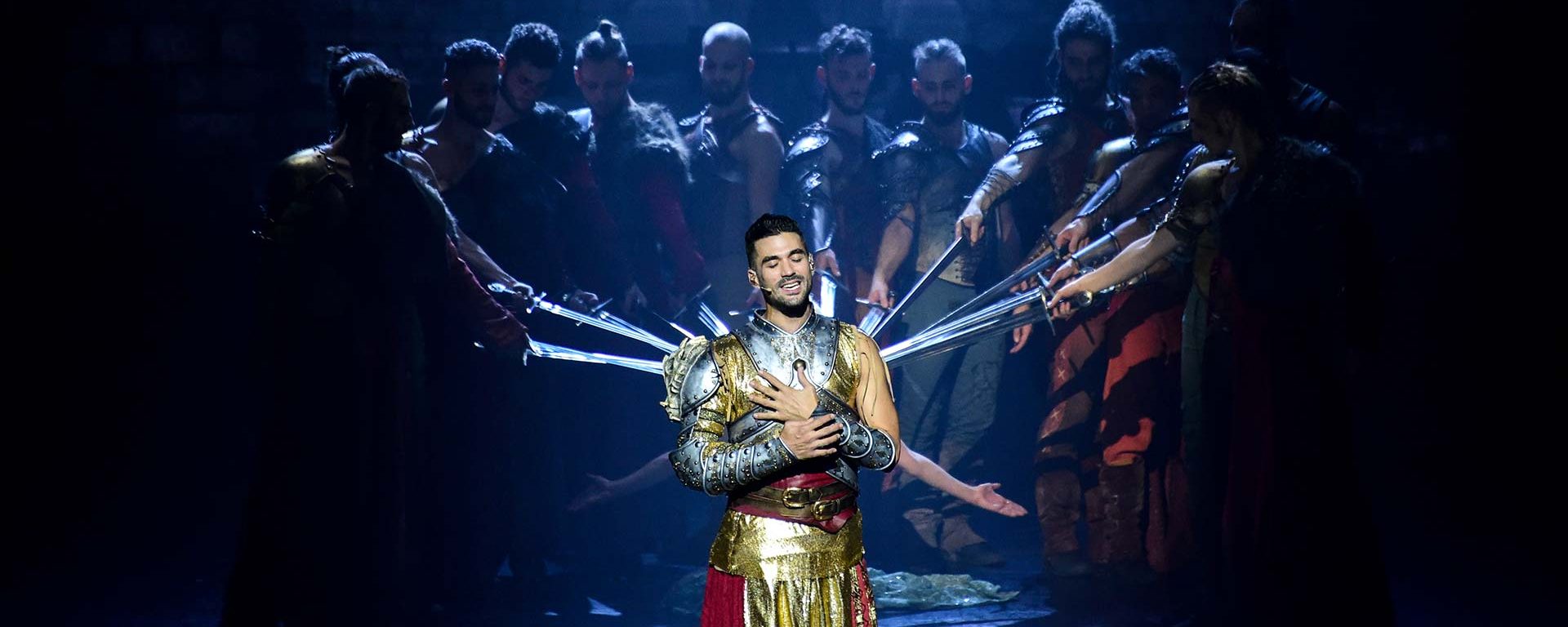 The Legend of King Arthur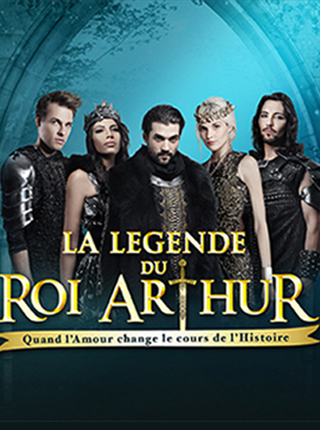 The Story
The Legend of King Arthur is performed by fifty artists.  It has celebrated its world premiere in Paris in September 2015.

The Legend of King Arthur is one of the most beautiful love stories that tradition and literature have passed on to us, like Tristan and Isolde or Romeo and Juliet. It is perhaps even richer because it tells us about two passions that mingle and refute each other: Arthur and Guinevere and Guinevere and Lancelot. A legendary king, a beautiful, wilful queen, and the bravest of knights. Loves that cross a magical universe where fairies become sorceresses, like Morgan, Arthur's stepsister, and where Merlin the magician speaks to spirits and dragons.
The men who created this legend once upon a time, avoided giving it a real beginning or a definitive ending. Thus, they could dream and travel in a fantasy world, continually renewing it. And it is on a journey that we wish to invite you. At the end of our story, Arthur, the little groom who became king, will rise above his suffering to forgive the two people whom, despite their having betrayed him, he loves most in the world…
Contact
Creative team
DIRECTOR/ CHOREOGRAPHER
Giuliano Peparini is considered one of the leading directors and choreographers of his generation.
At the age of 16, he was engaged by the professional theatre company 'La Rancia' to tour all round Italy in Michael Bennett's musical comedy A Chorus Line.
At the age of 17, he entered the School of American Ballet in New York. At the end of his course, he moved back to Europe where he attracted the attention of Roland Petit who engaged him in the Ballet National de Marseille. For three years, Giuliano performed the repertoire's leading roles: Nutcracker, Carmen, etc. Roland Petit appointed him Principal Dancer in 1995; Giuliano was 23.
Strongly encouraged by Petit to create his own choreographies, Giuliano Peparini gave his first creation, Horses, at the Opéra National de Marseille in 1997. One year later, he became one of Mr Petit's ballet masters and would work for the Opéra de Paris, the Bolshoi Theatre, the New National Theater in Tokyo, La Scala in Milan, etc.
In December 2001, he was in Saint Petersburg, at the Mariinsky Theatre where he premiered Loulou, the Dreams of an Anti-Star for the Kirov Ballet.
This opened up new perspectives to him. He collaborated with the Cirque du Soleil and, in 2004, met Franco Dragone (Cirque du Soleil – Céline Dion) with whom they share the same artistic views. Together, in 2005 they created Le Rêve, one of the most striking and poetic shows ever put on in Las Vegas.
In 2007, Giuliano Peparini staged an event featuring 150 artists for the opening of the Crown Macao Hotel in China.
Between 2009 and 2011 Giuliano joined Franco Dragone again as co-director and choreographer to create an outstanding new show, this time in Macao: The House of Dancing Water (the largest permanent water show in the world).
In 2012, Giuliano joined Dove Attia and Albert Cohen who entrusted him with the direction and choreography of their new musical show, 1789 les amants de la Bastille (elected Best Musical Comedy at the 2013 Globe de Cristal awards).
After an absence of 20 years from Italian stages, he returned in 2013 at the request of David Zard (tour organizer in Italy for U2, Madonna, the Rolling Stones, Michael Jackson), who gave him carte blanche to create the staging for the musical Romeo & Juliet. The success was such that, more than a year after its premiere at the Arenas of Verona, the show continued its triumphal sold-out tour all over Italy.
The Italian television channel Mediaset – Canal 5 made him Artistic Director for the Talent Show programme Amici. There, Giuliano also executed the staging and choreographies for the 2013 and 2014 editions. The poetic force, the originality and precision that his artistic universe breathed into the programme, attracted more than 7 million viewers every week.
In September 2014, Giuliano accepted the invitation of the French channel M6 to be a member of the jury for the programme La France a un incroyable talent.
Confirmed for the third year in a row as Artistic Director for Amici 2014-15, 2015 marked the reunion of Dove Attia and Giuliano Peparini for their new musical The Legend of King Arthur at the Palais des Congrès in Paris.
THE LIBRETTO AUTHORS
DOVE ATTIA & FRANÇOIS CHOUQUET
François Chouquet
Fascinated by the stage and theatre, he studied acting at the Ecole d'Art Dramatique Jean Périmony.
At the same time, he studied art history at the Sorbonne and piano at the Ecole Normale de Musique. In the theatre, assistant and collaborator of Robert Hossein, he participated in, amongst others, the adventure of great popular shows from Danton et Robespierre to Shakespeare's Jules César, by way of Cyrano de Bergerac with Jean-Paul Belmondo and the premiere of the musical Les Misérables by Claude–Michel Schönberg and Alain Boublil at the Palais des Sports, Paris, in 1980. For the opera, he has worked on numerous productions under the direction of Jérôme Savary, Pier Luigi Pizzi, Nicolas Joël, Vittorio Rossi… Finally, he joined the team made up of Dove Attia and Albert Cohen for the musical shows that would be: The Ten Commandments, The Sun King, Dothy et le magicien d'Oz, Mozart l'Opera Rock, and 1789, les amants de la Bastille. In 2014, Albert Cohen asked him to co-write and direct Mistinguett, reine des années folles at the Casino de Paris. Here he is now, associated once again with Dove Attia.
THE MUSIC
Alternating between Celtic pop, emotional ballads and up-tempo with urban-Celtic accents, the music reinvents the myth of King Arthur, giving it both grandeur and modernity. Like a conductor, Dove Attia, as usual wanted to mix genres and dare surprising, inventive collaborations.
Thus Zaho's catchy gimmicks cross swords with Vincent Baguian (Mozart l'Opera Rock, 1789), Dove, Zaho, Antoine Elie and Orelsan. The pop compositions of the young Silvio Lisbonne (Jenifer, Tal) are combined with songs by Rodrigue Janois (1789, Le Roi Soleil, Mozart l'Opera Rock).
As for the direction of the project, it was entrusted to Skread (Orelsan, Diam's) and Fred Savio (Soprano).
CHARACTERS & CAST
KING ARTHUR
The young Arthur is a simple groom in service to his foster-brother who was dubbed. His destiny changes dramatically the day he misplaces his brother's sword and decides to borrow a sword stuck in a rock. At the time, he does not know he has just pulled out Excalibur, the Sword of Kings, which, according to legend, makes him king of Britain. Before the opposition of the lords who refuse to pledge allegiance to a groom, Merlin reveals Arthur's origins. He is the fruit of the illegitimate union between King Uther Pendragon and the Duchess of Cornwall. Arthur becomes a just king, loyal, valiant and devoted to his people. But love is going to change the course of history. Arthur falls in love with Guinevere and marries her despite Merlin's warnings. This love will change his destiny and that of his kingdom.
MORGAN LE FAY
Morgan is barely five when she sees Uther Pendragon, king of Britain, enter the family home and abuse her mother by taking on her father's appearance. But Morgan already has gifts of clairvoyance and immediately understands the trickery fomented by Merlin the enchanter to transform Uther with her father's appearance. The young sorceress grows up hating Uther and his descendant, her half-brother Arthur, who is the fruit of this illegitimate relation. She moves to Camelot to get closer to Arthur.
One evening, she takes on the appearance of Guinevere to abuse Arthur and get him to make love to her. Morgan thus becomes pregnant by her half-brother and will constantly try to destroy the relationship between Arthur and Guinevere to prevent there being any heir to the throne other than the son she is carrying.
GUINEVERE
Guinevere is the daughter of Prince Leodegrance, one of the first lords to side with the young King Arthur. She is a big-hearted woman raised in the values of loyalty and faithfulness. She is going to love King Arthur sincerely by fulfilling her wifely duty. But the sudden new feelings for Lancelot will overturn her life and convictions. Torn by this amorous dilemma, she will try to resist to the very end. But that was without counting on Morgan Le Fay's arrival at Camelot.
MALEAGANT
Prince Maleagant is a valiant man who belongs to the highest nobility. He will participate in the Excalibur test, initiated by Merlin, convinced of his success. Like all the other lords, he witnesses, powerless, the coronation of the young groom, Arthur. He refuses to pledge allegiance to the young king and will lead the revolt against him. His hatred intensifies when he learns that Guinevere is going to marry Arthur, who has not only 'stolen' the crown of Britain that was rightly his but also the woman he has loved from the very beginning. Manipulated by the fairy Morgan, he abducts Guinevere and locks her up in his castle, reputed to be inaccessible. Arthur sends Lancelot in search of Guinevere, and he will succeed in freeing her and killing Maleagant in combat.
LANCELOT
The young Lancelot devotes all his youth in strenuously training to achieve his dream: become a Knight of the Round Table in the service of King Arthur. He is a good man, brave and loyal, totally lacking in perversity. His ingenuousness makes him the symbol of courtly love, ready to sacrifice everything for the woman he loves without asking anything in return. He will be caught up in a horrible dilemma, torn between his loyalty and friendship for King Arthur and his passion for Queen Guinevere. His faithfulness to King Arthur will push him to abandon his dream as a knight, leaving Camelot to avoid succumbing to his passion for Guinevere. But Fate will decide differently.