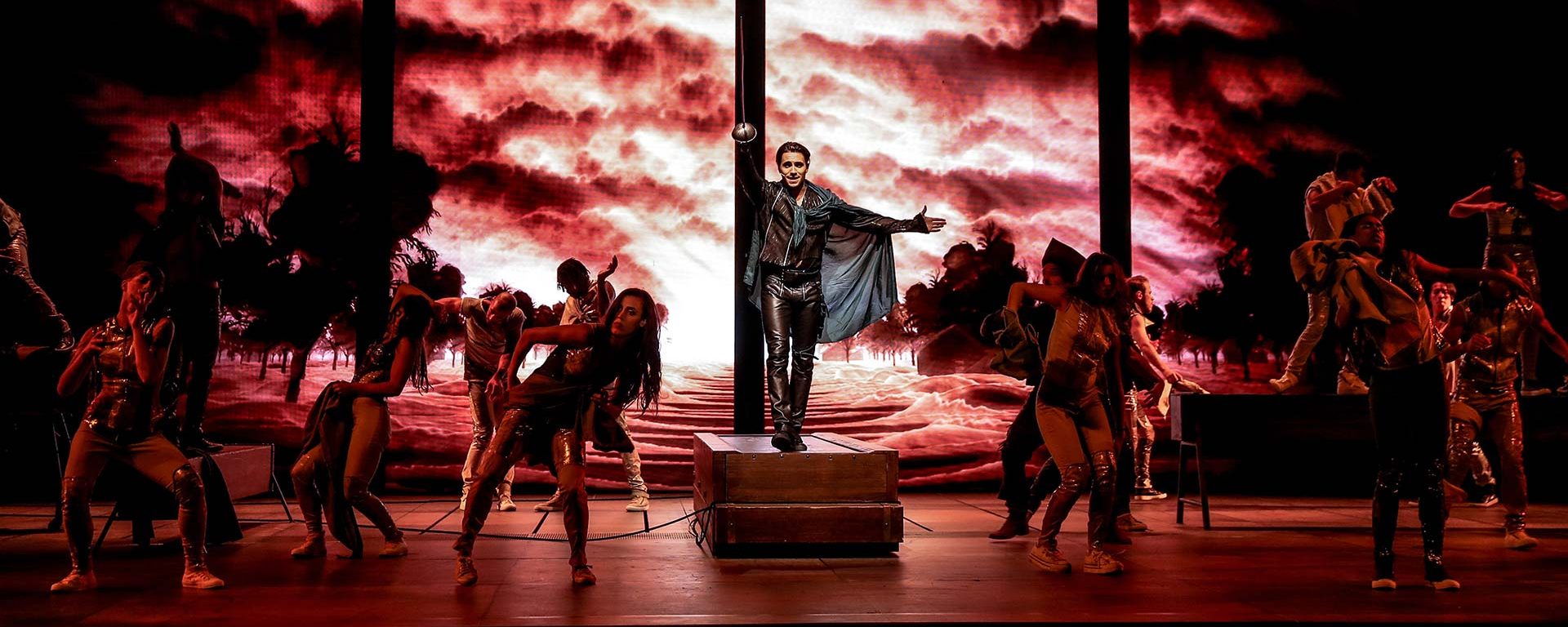 The 3 Musketeers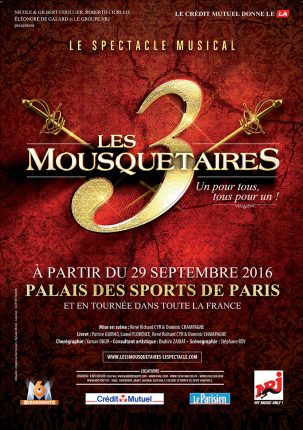 A federative project, a story that could bring us all together: the audience, the artistic team and the production.
« The 3 Musketeers » were an obvious theme to me. Thanks to the credo « One for all, All for one ! » , our imagination immediately starts working. Alexandre Dumas' masterpiece has inspired several movie producers, stage directors in theatres, and more recently « Musketeers », a BBC broadcasted TV show that reached an audience record.
Contact
The creation
The 3 Musketeers is one of the most translated novels: a world-famous masterpiece needs a world-famous show. We have gathered a remarkable team of artists: the book is the creation of my faithful friends and well-known authors Lionel Florence and Patrice Guirao, who were helped by Dominic Champagne and René Richard Cyr. Those two well-known stage directors are certainly the most talented people of their generation in this particular field, and at the beginning, we hoped we could convince one of them to join us on this journey/in this adventure. However, as they heard about the theme and after they listened to the songs, they both were convinced they had to live this unbelievable production together. Stéphane Roy, a very talented stage designer who has worked a lot for "Le Cirque du Soleil", will turn the Palais des Sports into a real, interactive stage, including a pop dimension. In order to fill the amazing playground, Yaman Okur, one of Robin Hood's and Madonna's dancers and choreographer will take up the challenge.
D'ARTAGNAN AND THE MUSKETEERS
As everyone knows, the three musketeers were four, should we include d'Artagnan. We all know how bound to each other, respectful and helpful they were. We needed artists fitting Alexandre Dumas' description. The Musketeers honor each and every character of the story: from Richelieu to the Queen Anne of Austria, the Duke of Buckingham, Constance, and of course, Milady. More than 10 composers worked on the songs which not only reveal the different characters but those songs also have the potential to be broadcast on radios and TV.
THE STORY
April 1625, the young and valorous D'Artagnan leaves Gascony where he was born, hoping to become one of King Louis XIII's bodyguards and get rich in Paris.
Shortly after arriving in the capital, d'Artagnan unwillingly causes a duel between the musketeers Athos, Porthos and Aramis. He hits Athos's wounded shoulder, walks on Porthos's cape and accidently jeopardizes Aramis with a handkerchief bearing the wrong initials.
Duels at that time were forbidden by Cardinal Richelieu, D'Artagnan and the three musketeers are hereby not abiding the law; that's when the guards see an opportunity of getting revenge in their rivalry with those three men. Against all odds, D'Artagnan allies with the musketeers and thanks to this victorious fight, an unshakeable friendship is born.
Following the advice of the Cardinal, Louis XIII commands the queen to wear the 12-diamond neceklace he offered her to the next ball. However, the evil Cardinal knows that the queen gave her precious jewels to the Duke of Buckingham to prove him her love, for they are lovers.
Thanks to the help of the faithful laundry supervisor, Constance Bonacieux, the four of them save Queen Anne from the evil will of Richelieu and his devious agent, Milady, by going to London and bringing the jewels back to the queen.
At the end of a dangerous journey, D'Artagnan and his three friends Porthos, Athos and Aramis succeed in giving the jewels back to the queen right on time. Promoted Lieutenant, D'Artagnan and the three Musketeers manage to keep the honor of the kingdom unscathed, motivated by their (one and only) credo: "One for all, all for one!"
SONGS AND BOOK
René Richard Cyr
René Richard Cyr is one of the most skilful creators in the cultural environment of Quebec. A 1980 graduate of the Canadian National school of theater, this versatile artist is at the same time an actor, a stage director, author and a producer in different fields including theater, television, films and the music industry. From 1998 to 2004, artistic director and general co-director of Théâtre aujourd'hui, René Richard Cyr also directed the "Théâtre PAP" from 1981 to 1998. As an actor, he won two acting awards for his role in Hosanna, written by Michel Tremblay. >He takes part in several TV shows among which one can find "Cover girl", "Yamaska", but also in the movie industry in Denis Arcand's, Emile Geaudrealt and Luc Picard's movies. As a team with Dominic Champagne, René Richard Cyr produced several times the national day show and created a TV show concept broadcasted on Télé-Québec, two times awarded at the Gémeaux awards. Without talking about several shows such as Céline Dion or Diane Dufresne where he had the role of artistic director, René Richard Cyr is at the origin of hundreds of theater stage directing including his own creations and Molière's classic texts. In 2003, he writes the scenario and is the stage director of "Zumanity", a very prestigious show of "Le Cirque du Soleil", collaborating with Dominic Champagne. In Montreal, he puts on stage several operas including "The turn of the crew" of Britten, Mozart's Don Giovanni, Verdi's Macbeth that went on stage in Sidney too. In 2010, René Richard Cyr won his 4th Felix award of the best stage director of the year for the adaptation of the musical "Belles sœurs" also on stage in the "Théâtre du RP" in Paris in 2012. Both the background and on stage man, René Richard goes from one to the other artistic fields with passion and talent. René Richard Cyr and Dominic Champagne will both be in charge of directing the stage of "the 3 Musketeers" as they both worked on the booklet with the songwriters Lionel Florence and Patrice Guirao.
Dominic Champagne
Dominic Champagne is both author and stage director. He has designed for theatres, television and  circuses more than a hundred shows including Love, with songs by the Beatles, and Le cirque du soleil, Zumanity, Varekai, L'Odyssée, Don Quichotte, Cabaret Neiges Noires,… He has won several awards and distinctions including The Order of Canada and nominated as Character of the Year in Press/Radio-Canada, the Peace for Artist award, Patriot of the Year award, several Gémeaux, Masques, Gascon-Roux awards but also the prestigious Gascon-Thomas award for his whole career. Since 2010, he is a true activist against the invasion of shale gas in Quebec. In the spring of 2012, he was the supervisor of the biggest demonstration for the environment in the history of Quebec, bringing 300,000 people together. In 2014, he signed his first documentary Anticosti, the Hunt for Extreme Oil on television, and in addition to the adaptation of several of his works, he has written the script for several TV dramas and hosted numerous commercial shows: the TV show Les grands procès, Le plaisir croît avec l'usage, Tous unis contre le sida, shows that brought him some Gemeaux awards, Public Masks and the best adaptation award for L'Odyssée, the Montreal Production award for Don Quichotte and the critics' awards for directing L'Odyssée, Don Quichotte and Ahah at the Theatre du Nouveau Monde as the big award of Montreal street community theater. In circus, his show Varekai was performed more than 4,000 times and also was a finalist for the NY Drama Desk award. The musical skill of Love, to which he contributed largely, won 2 Grammy awards including Best Compilation Soundtrack Album. The movie All Together One, making-of the Love show, in which he also starred, won the Best Song Long Form Music Video Grammy in 2010. In this new show, Dominic Champagne and René Richard Cyr were in charge of directing The 3 Musketeers and both worked on the book with the lyricists.
Lionel Florence
When he was 18 years old, Lionel Florence began studying art in Paris and, a few years later, started to work as a drawing teacher without neglecting his passion for music. He continued writing and composing songs, and 6 of his texts were chosen for the charity project 'Entre sourire et larmes' in 1995, an album bringing together Jane Birkin, Alain Chamfort and other artists.
This experience brought him to meet Pascal Obispo with whom he worked on several musical projects including the writing of Lucie and Savoir aimer, huge hits in France. As a result of this predestined encounter between Lionel Florence and Pascal Obispo, many singles were written for French artists such as Florent Pagny, Nolwenn Leroy, Johnny Hallyday. With Pascal Obispo, they wrote the single 'Sa raison d'être' sung by 42 artists against AIDS. Lionel Florence was a member of the jury for the first season of the TV show Nouvelle Star. Lionel Florence also wrote the lyrics for the most successful musicals such as Les 10 Commandements and Les Rois du monde. For this new musical project, Lionel Florence and Pascal Obispo both wrote the lyrics of the songs. They also both worked with Dominic Champagne and René Richard Cyr on the booklet of the show.
Patrice Guirao
Patrice is a lyricist and a novelist and writes for the song industry. This impassioned lover of words lets his heart decide. As an author of crime novels, Patrice also writes for the movie industry. Above all, he is a well-known lyricist who uses his talent for such singers as Florent Pagny, Chimène Badi, Céline Dion, Garou, Jenifer, Jane Birkin, Christophe Maé, Isabelle Boulay, Stanislas, Sacha Distel, Christophe Willem, Daniel Lavoie. Plácido Domingo or Patrick Fiori. He is the author of big hits like Johnny Hallyday's 'Ça ne finira jamais', Calogero's 'Prendre racine', Natacha St-Pier's 'Nos rendez-vous' and Pascal Obispo's 'L'important c'est d'aimer'. He also wrote Art Mengo's first four albums and Ute Lumper's opus Espace Indécent. Patrice shared the writing project with Lionel Florence for big shows such as Les Dix Commandements, Le Roi Soleil, and Cléopâtre then wrote for Mozart, l'Opéra rock and, more recently for Robin Hood as well as the charity songs 'Noël ensemble' and 'Des Ricochets'.
Those joint projects brought Patrice to be involved once again alongside Lionel Florence and the two creators Dominic Champagne and René Richard Cyr in writing the book of The 3 Musketeers for which he would, once again, co-author the lyrics with Lionel Florence.